Portable UV Antibacterial Toothbrush Storage Box
Description
Have your toothbrush sterilized on the go! This Portable UV Antibacterial Toothbrush Storage Box ?will keep your toothbrush clean with it's built-in UV light. We use our toothbrushes day & night to remove bacterium build-ups in our mouth. It's not surprising that it becomes a haven for bacteria. This all-in-one solution for your oral regimen is designed for ease of use and to meet your toothbrush sanitizing needs.
Highlights:
Simple Design: Easy to take with you on a family vacation or business trip so that you can keep your toothbrush fresh and clean wherever your life takes you
Power: 2 x AAA batteries
Long battery life: The automatic shut-off feature will help save you battery
Wide Compatibility: Cleans various toothbrush models of different sizes
Color: Purple / Green / Pink / Blue
Size: 210 x 50 x 23.5 (mm)
Ultraviolet Light Source: 0.5W Quartz ultraviolet tube
Pack Comes With: 1 x UV Box Toothbrush Sanitize (no toothbrush included)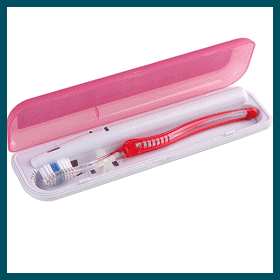 Reviews (0)
Only logged in customers who have purchased this product may leave a review.
Related products