Slap Chop | Chopping for Finer Pieces
Description
Slap Chop is a versatile chopper that works when you slap the plunger. Every slap triggers the 3 blades below to chop and cut the food.
The more you slap the Slap Chop, the finer the food gets. Chop up potatoes for home fries, or add mushrooms and green peppers for a tasty side to your eggs. Even use the Slap Chop for vegetables like carrots, celery, and radishes for an instant salad.
Nuts and chocolate are chopped easily for toppings on ice cream. The Slap Chop is great for onions and even garlic. And the base opens up for easy cleaning.
You never need to switchblades
Chop up vegetables, nuts, & fruits, quickly and easily
With every slap, the finer the food gets
Easy to clean and dishwasher safe
When chopping an onion, remove the skin first. If you chose to leave the skin on, make sure that the onion skin is on the bottom.
You don't have to change blades. Today we're offering the Slap Chop™ for just $16.88.  
How do I chop vegetables like Vince?
HELPFUL HINTS:
Please make sure that you start out with a small amount of food. Once you become more familiar with the product, you may gradually increase the amount of food chopped.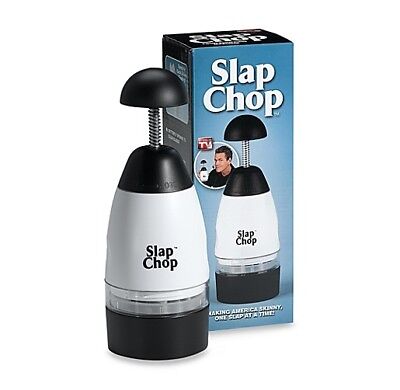 Do not push the plunger top; slap or hit it. Make sure that when you slap the chopper, the blades go through the food. Allow the plunger to come all the way back up, which will give the blades a chance to rotate.
Make sure the food splash guard is placed into the Slap Chop chamber correctly (don't place the food guard upside down – see instructions). The Slap Chop will not work properly without this item in place. Food will not stick to the blades with the use of the food splash guard.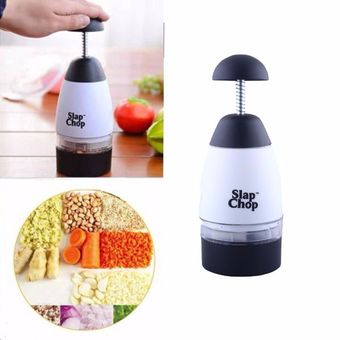 PACKAGE INCLUDES:
Reviews (0)
Only logged in customers who have purchased this product may leave a review.