ULTRASONIC PEST REPELLENT
Description
🐛MAKE YOUR HOME FREE OF PESTS. PEST CAN'T HIDE FROM THIS ULTRASONIC PEST REPELLENT

 

🐞
Do the insects cause you nightmares and won't go away? Whether that's Mice, Rats, or Cockroaches. Well, we have the product for you with Ultrasonic Insect repelling power that works against most trouble-causing insects like mice, rats, spiders, cockroaches, mosquitoes, ants, snakes, rats; nearly all of the nasty pests.
Are you fed up with pests infesting your house, and looking for an effective way to get rid of these nasty pests?
Now you can just plug in our ultrasonic pest repellent and rest worry-free with our pest repellent working in the back eliminating the insects for good. The functioning of the pest repellent is completely safe for pets and small kids.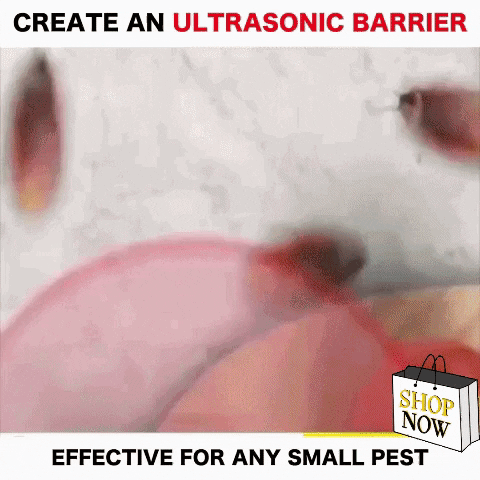 Did you know that insects infesting our homes can affect our psychological health as well?
According to psychologists, having pests such as bed bugs, cockroaches, and mice can lead to negative psychological manifestations such as nightmares, flashbacks, hyper-vigilance, insomnia, anxiety, avoidance, trauma, and personal dysfunction.

You will feel great peace of mind by getting rid of these nasty pests. And focusing on useful tasks and leaving the Insect Hunt at Us!
P.S It's 50% OFF Today Only!
Why make your home a home for the pests when you don't have to? 
The Ultrasonic pest repellent can make your home free from unsanitary mosquitoes that transmit malaria, and rats that may carry the disease-causing virus, and cockroaches that spread bacteria. 
GET YOURS 50% CHEAPER BY CLICKING ADD TO CART
Testimonial:

"I'm giving this product 5 stars because:

1.) installation couldn't be easier, you just plug it into the wall. And 2.) it's already starting to work 2 days after! I saw a few spiders/insects come out of hiding within 2 days of plugging it in. It says full results within 2-3 weeks so if it's working like this now, I can't wait to see it at full capacity! " – Brianna S., TX
⚡AVAILABLE IN ALL PLUG TYPES⚡
FEATURES:
Fast And Effective Against Mice, Rats, Ants, Roaches, Flies, Mosquitoes, And Spiders
Safe To Use With Cats And Dogs
Non-Toxic
Environment Friendly
No Chemicals
Odorless
22-65KHz Of Repelling Ultrasonic Frequency
80-120 sqm Of Protection
Easy To Install
No Maintenance
No Mess
*Accelerated Pest Killer emits high-frequency ultrasonic waves that human beings cannot register or be negatively susceptible to. It has no negative effects on adults, babies, pregnant women, cats, or dogs. 
SPECIFICATIONS:
Dimensions: 3.34 x 2.24 x 1.06 inch
Weight: 2.5oz
US Plug
Installation Method:
1. Install it on the power socket of the wall in the height of 20 – 80cm, ensuring vertical to the ground ( strictly forbid keep flat on the ground ). If there is no power socket of the same height in your home, and you need an external patch board to keep the product in the same height

2. Not allow tall barrier lying in the front of the product within 1 meter
3. The product needs to toward the open area, but you do not allow to choose the long-time open doors and windows ( or it will weaken ultrasonic intensity, decreasing the efficiency of rodent repellant )

4. First, you need to install the product in the most severe area of rat damage, and after the mice are destroyed, transfer it to the center of the whole house ( such as the living room ) or the mouse will easy to enter in

**Take note that the Accelerated Pest Killer works best when put in the vertical position(as opposing to the wall) not in horizontal(as opposing to the floor) as it can emit the high-frequency ultrasonic waves and cover the best range that way.
Reviews (0)
Only logged in customers who have purchased this product may leave a review.
Related products